Overview
Sullivan's Steakhouse in Raleigh offers guests a chance to untie, unwind and uncork. You'll find this truly unique steakhouse in the Creamery Building, located in the Glenwood South District of downtown. Watch the world go by from the large windows of our two-story brick building, while enjoying hand-cut steaks, fresh seafood, signature cocktails and swinging live music. Make reservations to turn your night up an octave at one of the best downtown Raleigh restaurants.
Hours
Dinner Monday - Saturday: 5:00pm - 11:00pm
Sunday: 5:00pm - 10:00pm
Cocktails Monday - Sunday: 4:30pm - Close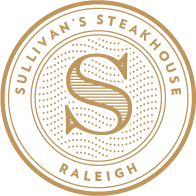 Contact
410 Glenwood Avenue, Suite 100
Raleigh, NC 27603
Phone: (919) 833-2888
Email: [email protected]

General Manager: Robert Crawford
Executive Chef: Mario Ledezma
Sales & Event Planner: Lacie Lindstaedt

Wine Spectator – 2011-2013 Award of Excellence
Metro Bravo Awards – 2011-2012 Best Martinis, Honorable Mention Best Steak, Best Cocktail List
Private Dining
From celebrations to board sessions, our private and semi-private dining rooms are the perfect place for your next gathering. Our dedicated private dining coordinators will plan and personalize your event to create an unforgettable experience.
Book Your Event
Capital Room
Number of Seats: 30
Reception Occupancy: 40
72 inch flat screen TV
Built in Audio
Wireless Internet Access
Triangle Room
Number of Seats: 25
Reception Occupancy: 30
Wall of vintage books
Built in Audio
Wireless Internet Access
Mason Room
Number of Seats: 30
Reception Occupancy: 40
72 inch flat screen TV
Built in Audio
Wireless Internet Access
Canes Room
Number of Seats: 75
Reception Occupancy: 85
Wine Wall
Built in Audio
Wireless Internet Access
Glenwood Room
Number of Seats: 25
Reception Occupancy: 35
Immediately off the bar and lounge
Built in Audio
Wireless Internet Access
Oak City Room
Number of Seats: 100
Reception Occupancy: 125
72-inch Flat Screen TVs
Wireless Internet Access
University Room
Number of seats: 50
Reception Occupancy: 75
72-inch Flat Screen TV
Wireless Internet Access