Overview
Welcome to Sullivan's Steakhouse in Lincolnshire. Dine in style and sophistication in the heart of the city, near the Half Day Center across from the Marriott Theater. Enjoy hand-cut steaks, fresh seafood, signature cocktails and live music in one of the best Lincolnshire restaurants that will make you will feel as though you're in another time and place.
Hours
Dinner Monday - Saturday: 4:00 pm - 10:00 pm
Sunday: 3:00 pm - 9:00 pm
Cocktails Happy Hour: Monday - Friday 4:00 pm - 7:00 pm
Opens 4:00 pm Saturday | 3:00 pm Sunday
Swingin' at Sullivan's $7 Bar Bites, Select Wines and Signature Cocktails
Monday - Friday: 4:00 pm - 7:00 pm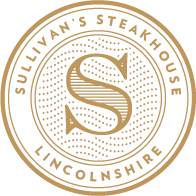 Contact
250 Marriott Drive,
Lincolnshire, IL 60069
Phone: (847) 883-0311
Email: [email protected]

Executive Chef: James "Jim" Teutemacher
Sales & Event Planner: Casey Dulny

Wine Spectator – 2011-2013 Award of Excellence
Open Table – 2013 Diners' Choice Award
Open Table – 2013 Diners' Choice Notable Wine List
Modern Luxury North Shore – 2013 50 Must Try Tastes
Private Dining
From celebrations to board sessions, our private and semi-private dining rooms are the perfect place for your next gathering. Our dedicated private dining coordinators will plan and personalize your event to create an unforgettable experience.
Book Your Event
Lakeside
Number of Seats: 36
Reception Occupancy: 50
Flat Screen Television
Built in A/V Capabilities
Patio Access with Landscaped Pond View
NAPA
Number of Seats: 48
Reception Occupancy: 60
2 Flat Screen Televisions
Built in A/V Capabilities
Patio Access with Landscaped Pond View & Private Fireplace
SONOMA
Number of Seats: 48
Reception Occupancy: 60
2 Flat Screen Televisions
Built in A/V Capabilities
2 Walls of Windows with Landscaped View & Private Fireplace
WINE COUNTRY
Number of Seats: 96
Reception Occupancy: 120
4 Flat Screen Televisions
Built in A/V Capabilities
Patio Access with 2 Private Fireplaces
TOWER (semi-private)
Number of Seats: 40
Reception Occupancy: 50
2-Story Wine Room
Vaulted Ceilings
Booth & Table Seating
SIDE LOUNGE (semi-private)
Number of Seats: 58
Reception Occupancy: 120
2 Flat Screen Televisions
Live Music
Easy Bar Access