Overview
Welcome to Sullivan's Steakhouse in King of Prussia. Within walking distance of shopping at the King of Prussia Mall, you can find an outfit that will make you feel great on the outside before you savor the hand-cut steaks, fresh seafood, signature cocktails and lively music that will make you feel good on the inside. Make your reservation today for an unforgettable experience at one of the best King of Prussia restaurants.
Hours
Dinner Sunday - Monday: 4:00pm-10:00pm
Tuesday - Friday: 4:00pm- 11:00pm
Saturday: 2:00pm-11:00pm
Lunch Monday - Friday: 11:00am - 2:00pm
The Sure Thing Available Daily Not Available for Private Events
BAR Monday - Friday: 11:00am - Close
Saturday: 2:00pm-Close
Sunday: 4:00pm-10:00pm
Cocktails Open Daily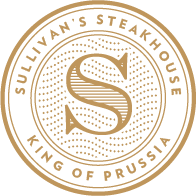 Contact
700 W Dekalb Pike,
King of Prussia, PA 19406
Phone: (610) 878-9025
Email: [email protected]

General Manager: Dan Prentice
Executive Chef: Dan Kahle
Sales & Event Planner: Aja Cramer

Ticket to Dining – 2012 Best in Dining – Atmosphere You Won't Soon Forget, Most Elegant/Romantic, Great Upscale Dining
TripAdvisor – 2013 Certification of Excellence
Wine Spectator – 2013 Award of Excellence
Private Dining
From celebrations to board sessions, our private and semi-private dining rooms are the perfect place for your next gathering. Our dedicated private dining coordinators will plan and personalize your event to create an unforgettable experience.
Book Your Event
PRIVATE DINING ROOM
Number of Seats: 50
Reception Occupancy: 70
Complimentary Flat Screen TV for Presentations
FULL WINE ROOM
Number of Seats: 75
Reception Occupancy: 110
Complimentary Flat Screen TV for Presentations
Windows that can be opened fully or closed completely to either bring in energy from the main dining room or create a more private space if desired.
FRONT WINE ROOM
Number of Seats: 55
Reception Occupancy: 70
Complimentary Flat Screen TV for Presentations
BACK WINE ROOM
Number of Seats: 20
Reception Occupancy: 25
Complimentary Flat Screen for Presentations
PATIO
Number of Seats: 35
Reception Occupancy: 65
2 Flat Screen TVs
Heaters and Fans for Comfort
Remote Controlled Weather Proof Sliding Available When Needed